At Stouffville Family Eye Care our eye doctors pride themselves in providing excellent eye exams in a comfortable and accommodating environment. Our well trained and compassionate Stouffville optometrists use the latest and most precise equipment to provide you with accurate eyeglass prescriptions, diagnose and treat eye conditions. Our dispensary is filled with fashionable, affordable and good quality glasses and we are well stocked with a wide array of contact lenses. All your visual and eye health needs can be met at Stouffville Family Eye Care!

Meet Our Optometrists / Eye Doctors
Dr. Meenal Agarwal, HBSc. O.D.
Dr. Agarwal was raised in Markham and is a graduate of Havergal College . She graduated on the Dean's Honour List with both an Honours Bachelor of Science and a Doctor of Optometry degree from the University of Waterloo in 2008. She completed an internship at the Parkland Health & Hospital in Dallas, Texas receiving thorough training in ocular disease management, low vision and contact lens care. Dr. Agarwal was awarded the William Feinbloom Low Vision Award in 2008 for aptitude in the clinical care of low vision patients and was featured in the Sept/Oct 2008 issue of "Women in Optometry" as valedictorian of her optometry graduating year. She also owns two other successful practices, the Pickering Town Centre Optometric Clinic and the Promenade Optometric Clinic . Dr. Agarwal has a great passion for LASIK and Laser Vision Correction , having had the surgery done herself, and having been Clinical Director at the TLC Laser Eye Centers in Toronto for many years. Dr. Agarwal also has a special interest in complicated contact lens fittings such as Rigid Gas Permeable and Scleral lenses. She is also passionate about helping to slow down the progression of Nearsightedness/Myopia in children and loves to discuss options with her patients. She completed the courses, the Future of Myopia management and Managing Myopia by the Brian Holden Vision Institute and a 70 hour vision therapy course with the Academy of Ophthalmic Education to further her interest in pediatric care. Her goal is to raise eye awareness especially around disease prevention. At home, Dr. Agarwal has 3 young children who drive her crazy but also keep her going! Dr. Agarwal welcomes patients of all ages, starting at 6 months of age!
---
Dr. Shairoz Jessa, HBSc. O.D.
Dr. Jessa received her Honors Bachelors of Science degree in 2004 from the University of Toronto, where she graduated with high academic distinction. She continued on at the University of Waterloo completing her Doctor of Optometry Degree in 2008. Dr. Jessa was the recipient of the College of Optometrists of Ontario General Proficiency Medal, for having the highest academic average in the 2008 graduating Optometry class. She also received The Advanced Medical Optics General Proficiency Award and The E.J. Chisolm Memorial Scholarship for excelling in a third year pediatric optometry course. During her last year of training, Dr. Jessa completed an internship at the Parkland Health and Hospital System in Dallas, Texas; where she received thorough training in ocular disease management. Dr. Jessa also trained at The Vision Institute of Canada where she learned how to manage difficult cases involving children and patients with special needs. As a mother herself, she has a special interest in pediatrics. She is well trained in new and effective methods in myopia control (slowing down the rate of nearsightedness in children). Dr Jessa is a member of the Ontario Association of Optometrists and the Canadian Association of Optometrists.
---
Dr. Anu Kajla, HBSc. O.D.

Dr. Anu Kajla started her career in a primary care setting in Northern British Columbia and has extensive experience in the co-management of refractive surgery and treatment of emergency cases. She also has a special interest in fitting Ortho-K lenses for helping children in slowing myopia progression. Dr. Kajla has a strong passion for community outreach, including active participation in occupational safety demonstrations, pediatric seminars, and performing screenings for Syrian refugees. Most recently, she travelled to Panama with VOSH to provide optometric services to underserved communities. In her spare time, she enjoys biking, camping, hiking, and spending time outdoors with her husband and son. Dr. Kajla received her Honours Bachelor of Science from the University of Waterloo and graduated with her Doctor of Optometry from the New England College of Optometry, Boston. She is fluent in English and Punjabi and can perform eye examinations in both languages.
---
Dr. Abhisheka (Abhi) Vengadeswaran. O.D.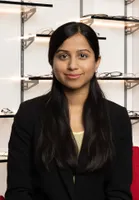 Born and raised in Ontario, Dr. Abhi Vengadeswaran received her Doctor ofOptometry at the University of Waterloo following the completion of her B.Sc. at the University of Ottawa. During her training, Dr. Abhi worked withmany optometrists in the Ottawa area and completed honours research in thetreatment of genetic blindness at the Ottawa Hospital Eye Institute. Duringher externships, she completed an ocular disease rotation in Dauphin,Manitoba, diagnosing and managing trauma, cataract, glaucoma and diabeticretinopathy in rural and Northern communities. She then trained in aprimary care setting in Oakville, Ontario. She has also participated involunteer vision care programs, at the Special Olympics Youth Games inToronto, as well as a mission eye care trip to Montego Bay andSavanna-la-mar, Jamaica.A member of the Ontario and Canadian Associations of Optometry, Dr. Abhi ispassionate about patient-centered communication to provide excellent eyecare, and she welcomes patients of all ages. She is trained in myopiacontrol for pediatric patients, as well as in scleral lenses for treatmentof keratoconus, dry eyes, and various other eye conditions. Dr. Abhi ishappy to provide service in English, French or Tamil.
---
OPTICIAN
Afsaneh Estabraghi
As a licensed optician, Afsaneh is well-versed in the latest advancements in eyewear technology and can help her patients make informed decisions regarding their vision needs. Her training at Seneca College provided her with a solid foundation in the field, over 8 year's experience and her family background instilled in her a strong work ethic and dedication to providing top-quality service. With her passion for opticianry and commitment to exceptional customer service, Afsaneh is a trusted and reliable resource for anyone seeking vision care. She approaches each patient with the same level of care and attention, ensuring that their experience is personalized and positive.